Talking with our team:  Vet Victoria Chapman
In this series, we talk with the people giving their time to help animals in need. Today we chat to Zoetis Veterinary Advisor and SPAW volunteer vet Dr Victoria Chapman about the work she has been doing for SPAW over the last six years.
Victoria studied at Massey University in Palmerston North, graduating in 1996. She lives in Dunedin.
Victoria – tell us how you got involved in SPAW?
I had been looking around for an opportunity to do some community service when I heard about SPAW and the organisation appealed to me, so I decided to find out more.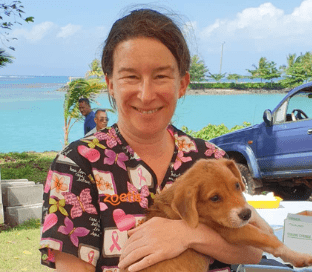 That was back in 2016. Several colleagues had been on SPAW field trips and came back raving about how enjoyable it was.  The following year I embarked on my first stint to Tonga. It was really hot, the facilities were quite basic and most of the animals had fleas and ticks, which get in the way when you are trying to operate.
The clinics are so busy. People seemed to come from everywhere and they waited for hours and hours for their animals to be seen by our team. This I thought was a really positive aspect – SPAW's services are well utilised and appreciated.
What do you find rewarding about volunteering?
You build up such a positive team spirit during a clinic – you can see the need, everyone puts so much effort in and it's very rewarding 'doing good'.
We all work solidly with a high level of productivity. On a seven day trip (five working days), a team of four vets, five nurses and assistants can treat more than 400 animals and we performed more than 400 surgeries. I also find volunteering very humbling.
And what have you found to be challenging?
The pace is fast, the patient list is endless, and it's hot. There is no question it's hard work, but as you get near the end you think, "where did the time go?" There is also a sense of attachment to the people and animals, which is why so many of us return for multiple trips.
What would be your advice to others thinking of volunteering?
Just do it – get involved. As a vet, it can be difficult to find organisations to volunteer for. In the islands there is limited veterinary care available. Both the people and animals need our skills and they are so grateful. Stopping one bitch from producing a litter improves her welfare and reduces the stresses homeless animals place on island communities.