South Pacific Animal Welfare and Host a Vet Vava'u
It is difficult watching the population of street dogs and cats increasing due to the suspension of de-sexing operations on Vava'u, Tonga, say Tracey Meikle, Bodine (Bo) Cameron and Brandie Cass from Host-a-Vet.
Host-a-Vet in a NGO set up by Vava'u expats in 2017 to work with SPAW to deliver their clinics on the island and to be a source of assistance for animals when there are no vets on the island. SPAW ran two clinics in 2011 and 2012 before Host-a-Vet was founded and since then, there have been a further three clinics.
Volunteer and Host-a-Vet member Tracey says: "With border restrictions still in place, we are currently reliant on long-distance support from SPAW via phone and email. We do our best to cover the basic needs that arise and we appreciate having care and general wellness advice for both the working animals and family pets here in Vava'u during this challenging time."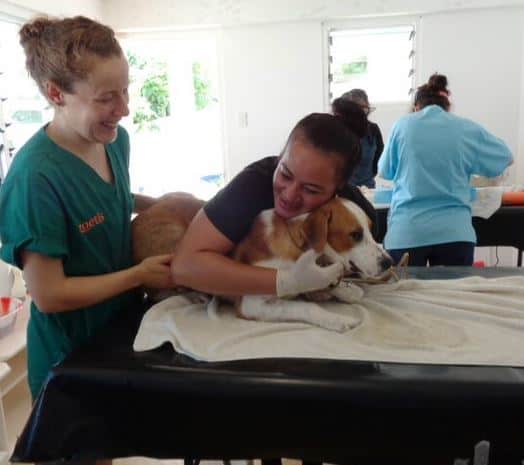 Bo adds: "Since hosting SPAW clinical teams, we've developed goodwill and trust with community members. We have many people contact us when their animals are sick or injured. We remain in close communication with SPAW's lead veterinarian Dr Geoff Neal, who advises us on how to proceed with treatment. The clinics and on-going consultations provided by SPAW are so invaluable to us."
Ahead of the clinics the Host-a-Vet team secure clinic locations, advertise the clinics, take appointments, co-ordinate local volunteers and secure accommodation for the SPAW team. They've also organised field work in outer villages to provide care for larger animals such as horses, cows, and pigs. During a SPAW clinic Host-a-Vet volunteers provide support services, check-in patients and provide hands-on assistance in consultations, surgery and recovery. The team fundraises year-round to raise the funds needed for the visiting team's internal flights and accommodation and freight.
"Host-a-Vet Vava'u appreciates SPAW and all they do for our community and is eagerly awaiting their return!" Tracey says.
A SPAW clinic is valued at around $50,000NZ which includes the resourcing of volunteers, team planning and logistics, securing clinical equipment, drugs, parasite control and vaccines.
SPAW Founder Karen Schade says: "Host-a-Vet is a fantastic partner to work with. Their support has made organising and running the Vava'u clinics so much easier and the additional funds they raise to support our work is very much appreciated. We take a collaborative approach, which is the only way the SPAW programme can prosper on Vava'u.
"Over the last decade we have been able to run our programme on Vava'u thanks to the many volunteers, individuals, businesses and donors who support us from New Zealand and further afield. We're looking forward to getting back and working with Host-a-Vet and our other partners on Nomuka and Tongatapu as soon as we can!"