Talking with our team: Lead Vet Dr Geoff Neal
In this series, we talk with the people giving their time to help animals in need. Today we chat to SPAW's Lead Vet and Board Chair Dr Geoff Neal about the work he has been doing for SPAW over the last eight years.
Geoff studied at Massey University in Palmerston North and worked as a mixed animal vet in the Manawatu and King Country before heading over to the UK to work. For the last 13 years, he has been living and working in Auckland.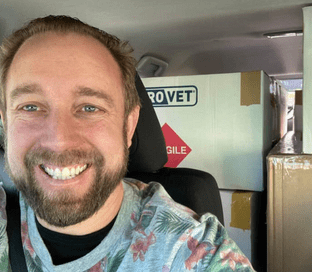 Geoff – tell us how you got involved in SPAW?
I first became involved with SPAW through another Board member Laura asking if I would go on a pilot project trip to Tonga with SPAW and Unitec in December 2013. A lot of the places SPAW holds clinics have no regular access to veterinary care so the trip really opened my eyes to the issues faced by many of our neighbouring Pacific Islands.
I enjoyed the trip a lot and saw an opportunity to use my skills for a good cause. The rest is, as they say, is history.
Since then I've been on 13 trips to various locations with SPAW to places including Vava'u, Nomuka and Tongatapu (Tonga) as well as Taveuni (Fiji).
What do you find rewarding about volunteering?
Seeing the transformation of the SPAW clinics over the years. During the time I've been volunteering, there's been such huge growth in the level of service we've been able to provide. We are treating more animals each clinic and people come back year after year, bringing their friends, family, and neighbours as well as their animals. There is a lot of trust placed in SPAW by local communities.
Over this time there has also been a big increase in the donations of products from vet clinics and drug companies within New Zealand. Even things like the number of flea treatments we can dispense in a week-long clinic has gone from 100 to more than 700 in some cases.
And what have you found to be challenging?
Right now with Covid-19 and the impact it is having on our ability to provide services to those animals and communities that need help. It's been nearly two years since we've been able to travel and run clinics.
We've changed our approach to providing care where we can online and over the phone and we're also sending supplies of medicines over. But it's not the same as being there. We can't do surgery and we simply can't help communities the way we could if we were there on the ground. Typically, during a week-long SPAW clinic we can treat more than 500 animals.
So we can't wait to get back when it's safe – there will be plenty of cases for us to treat and a lot to be done.
With eight years of service so far to SPAW, what are you most proud of?
Being part of a great team of volunteers who give up their holidays or their annual leave to help the island communities that SPAW visits. Without them, we could not have achieved what we have. There are a number of volunteers who go back time and time again. That's a huge commitment of their time and their money.
Our charity is run by a small team of volunteers and it's amazing to see what great things can be achieved through dedication and commitment.
Over the years I have met, and been privileged to work alongside, a huge number of vets and vet nurses from all over the world as well as on island staff and volunteers. There is a large SPAW family of people everywhere who I am pleased to be able to call my friends.
What would be your advice to others thinking of volunteering?
Just do it.